EnviroManager sells, installs FTIR spectrometers used for leak detection volatile gas emissions analysis and environmental air quality monitoring systems, remote sensing FTIR technology are the two main configurations:
Open Line Open Path
External monitoring cell Extractive Cell
The company markets the Model OP-FTIR
™ RAM2000 combined support systems: automatic tracking, meteorological observation station, nitrogen cooling system with software controlled continuous monitoring: RMMSoft allows unattended operation continuity in marine concentrations continuously reported total FTIR software. Proven design
telescope
Socio EnviroManager markets monitoring solutions fences and advanced technologies of remote sensing
RAM2000_1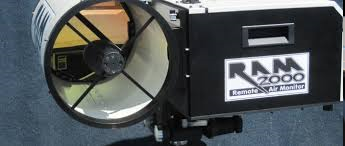 Remote sensing monitoring system used to monitor the plant fence line open for a few hundred meters and the area of ​​the dividing line between industry and public receptors.
The company sells, installs remote sensing system P-FTIR technology.
Pen Path Frtier Transfrm Infra Red, model identifies and quantifies RAM2000 hundreds of chemicals in real time and shows
the concentrations of chemicals at Hl"b ppb and includes all the proven features such as:
Low noise - external linear power supplies
Thermal stabilization control
Scan indicator lamp
Elapsed time meter
Display software and data processing model RMMSft with patented algorithms G2 users can easily reconfigure the system FTIR to measure active, passive or external monitoring (Extractive Cell). Optical systems are all field-level direction for improving the performance.
Applications and configurations:
Integrated autpsitiner monitor multiple beam path lengths
Integrated Weather Station meteorological monitoring
LN2 integrated automatic auto-fill (FrLN2 Dewars)
Integrated single pass or multi-pass gas cells.
Applications for open path FTIR RAM2000 G2 include:
Fenceline & Monitoring System
Leak detection
Determining emissions
Remote sensing of fireworks feathers
Monitoring and emergency response
Greenhouse gas monitoring
Chemical Agent Detection
Underground infrastructure, buildings and subways